Spring is here!
"It is only with the heart that one can see rightly; what is essential is invisible to the eye."
Antoine de Saint-Exupery, The Little Prince

Daffodils
William Wordsworth
I wandered lonely as a cloud
That floats on high o'er vales and hills,
When all at once I saw a crowd,
A host, of golden daffodils;
Beside the lake, beneath the trees,
Fluttering and dancing in the breeze.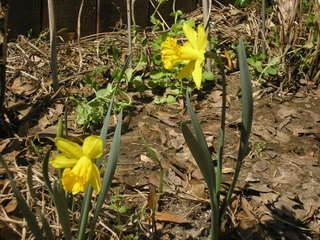 My garden is slowly coming back to life. I know the daffodils blooming foretell the warm weather ahead. There is something about spring that you can't see with your eyes but yet "it" gladdens your heart.