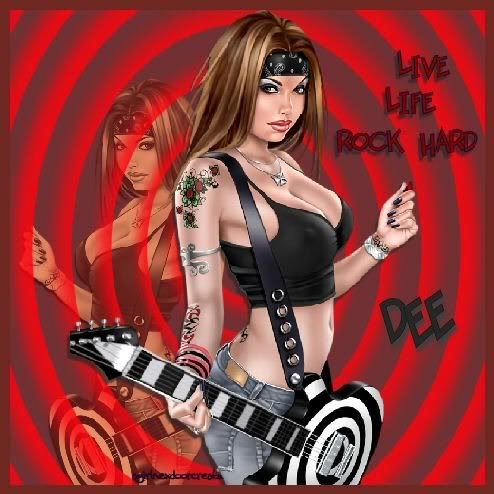 I decided I am not waiting till the last kid leaves home to get a life. I am working on my "empty nest to do list." This week, my computer had been really busy downloading songs for my personal playlist. What inspired me to get started is the tag above. I saw it in
Terry Ann's
tag journal and I just can't pass it up. Terry Ann is so awesome! I asked for it and she made me one with my name on it.
Looking at the songs I have downloaded previously for my playlist, I can say that my taste in music is very eclectic. My taste encompasses every musical genre and subgenre except for the modern day hip hop and rap. The only rap musician I like is Blondie. Her 80's song, Rapture was the first and last rap song I ever liked. The only hip hop artist I listened to lately is Gnarls Barkley. I like playing "Crazy" and singing along with it in my car. Maybe I am showing my age here but I do not "get" a lot of new hip hop and rap songs.
The tag reminded me of my love for female rock stars. Some might think that female rock and roll musicians are all from the 80's. Nope, women had been at it as early as the 20's. Though the 80's saw a proliferation of female performers who rocked because they were signed by mainstream labels, variations of rock had been sung in the 20's to the 70's by numerous talented women.
Not surprisingly, most of the music I have downloaded this week were sung/played by female singers/musicians. I have Ella Fitzgerald, Lena Horne, Etta James, Sister Rosetta Tharpe, Billy Holiday, CWLU Band, Joni Mitchell, Joan Baez, Janis Joplin, Aretha Franklin,Tina Turner, Debbie Harry, Heart, Lita Ford, Cindy Lauper, Joan Jett, Stevie Nicks, Pat Benatar, Annie Lennox, Patti Smith, Kate Bush, Tracy Chapman, PJ Harvey, Erykah Badu, Vanessa May, KT Tunstall and Ani DiFranco. The common denominator for all these women is that they were rock stars. They rocked and rolled like nobody's business. Feel free to suggest anybody who I may overlook.
Sure, there is a room for a few male musicians like Bob Dylan, Rod Stewart, Louis Armstrong, Count Basie, Fats Domino, Kurt Cobain, and Bruce Springsteen but I am very partial to women who have versatile voices. I like them even better when they can belt out a meaningful song. There is nothing more contradictory yet exhilarating than a sad or bittersweet song being sung in an upbeat manner.
Aside from music, I have other preoccupations lately. I've been working with a nonprofit organization as a Project Manager. Our most recent project was putting together a grant proposal for an afterschool program in an at risk area in our city. Great place, great people, and noble dreams. I am proud to be affiliated with rebels with a cause. Right now, I am working on developing the curriculum for the Personal Development and Parenting classes for the afterschool program. Lots of writing and research but it will be all worth it when I finally see the end product.
Another preoccupation is a plan to start a part time business with my neighbor. She is a lovely lady from Paraguay who is a dreamer like myself. She owns a private school in San Juan Bautista where the students do not have to pay for tuition. As you can see, we're both bleeding hearts so we get along well. We're going to do something that I can't disclose just yet. It's not illegal, just that our business plan needs to be worked and reworked before full disclosure. In layman's term, we're still in the talking and dreaming stage.
If I disappear from blogsphere for a while, do not send the Marines to rescue me. I will be fine, just busy earning brownie points for my economic as well as my karmic existence.